Modified bodies. Between fashion and identity projects
Palavras-chave:
Body Project, identity, tattoing, piercing, embodiment
Resumo
The body has come to play an increasingly crucial role in social context, where appearance represents the privileged sphere for self-expression and identity construction. Among the many ways of decorating, adorning and camouflaging the body, some traditional techniques (tattoing, piercing, scarification) are competing with newer and technological ones (aesthetic surgery, implants) to shape and portray individualities. On the one hand, those techniques are borrowing from the world of fashion purposes and codes of presentation, on the other hand, they challenge that fluidity and continuous change by materializing long term identity projects aimed at resisting transformation.
In both cases individuals refer to the body as a privileged realm to narrate and reflect upon their own personal story, they also seem more capable to manage the different techniques, and to mix them for their expressive purposes. The result is a combination of visual codes that can reveal different bodily models as well as different ways of experiencing corporeality and embodiment.
The article tries to account for this variety by referring to a research carried out on four techniques (tattoing, scarification, aesthetic surgery and piercing) among a group of users and professionals.
Downloads
Não há dados estatísticos.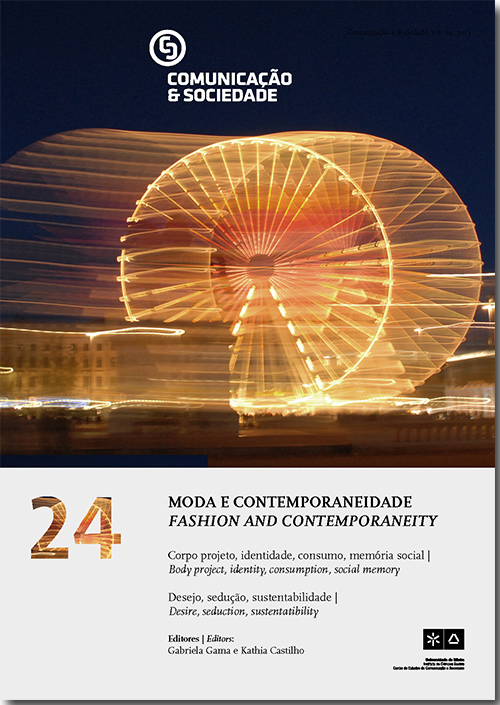 Downloads
Como Citar
Cereda, A. (2013). Modified bodies. Between fashion and identity projects. Comunicação E Sociedade, 24, 45-61. https://doi.org/10.17231/comsoc.24(2013).1774
Secção
Corpos, Identidade, Moda, Sustentabilidade e Mercado
Licença
Direitos de Autor (c) 2014 Comunicação e Sociedade
Este trabalho encontra-se publicado com a Creative Commons Atribuição-NãoComercial 4.0.
Os autores, individuais ou coletivos, dos artigos publicados transferem para a Comunicação e Sociedade o exclusivo do direito de publicação sob qualquer forma.