Narrative, history, and fiction: history games as boundary works
Palavras-chave:
History, narrative, electronic games
Resumo
This work arises from the reflections generated by a post-doctoral study that investigates how history games can contribute to the production and dissemination of representations, pictures, and imaginaries of the past. We understand history games to be digital electronic games whose structure contains narratives or simulations of historical elements (Neves, 2010). The term notion of "border works" is used by Glezer and Albieri (2009) to discuss the role of literary and artistic works that, standing outside the historiographical field and having a fictional character, are forms of the dissemination of historical knowledge and approximation with the past. We want to show how, under the impact of the linguistic turn, the boundaries between history and fiction have been blurred. Authors such as White (1995) and Veyne (2008) found both a convergence with and identification between historical narrative and literary narrative that interrogates the epistemological status of history as a science. These critiques result in an appreciation of fictional works as both knowledge and the dissemination of historical knowledge of the past. We then examine the elements of the audiovisual narratives of electronic games (Calleja, 2013; Frasca, 1999; Jull, 2001; Murray, 2003; Zagalo, 2009) in an attempt to understand their specificity. Next, we investigate the place of the narrative and historical simulations of electronic games in contemporary culture (Fogu, 2009). Finally, we discuss how historical knowledge is appropriated and represented by history games (Arruda, 2009; Kusiak, 2002) and analyze their impact on the production of a historical consciousness or an imaginary about the past.
Downloads
Não há dados estatísticos.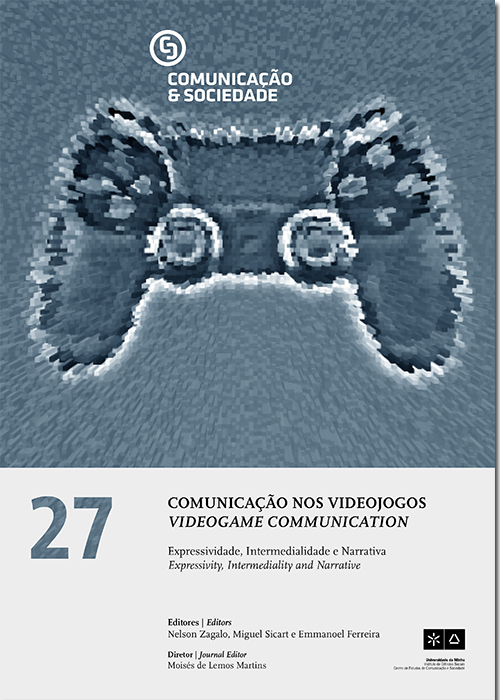 Downloads
Como Citar
Telles, H. V., & Alves, L. (2015). Narrative, history, and fiction: history games as boundary works. Comunicação E Sociedade, 27, 319-333. https://doi.org/10.17231/comsoc.27(2015).2104
Secção
Comunicação, Expressividade e Narratividade nos Videojogos
Licença
Os autores, individuais ou coletivos, dos artigos publicados transferem para a Comunicação e Sociedade o exclusivo do direito de publicação sob qualquer forma.