Public radio in Brazil: reflections on their original conditions, contemporary setting and challenges
Elton Bruno Barbosa Pinheiro

Universidade de Brasília
Palavras-chave:
Brazilian public radio, public servisse, broadcasting, convergence
Resumo
Clarify the concept of public radio and certain aspects that relate to the original conditions of such stations in Brazil is the main objective of this work. Therefore, structured in four sessions that dialogue and intertwine: the broadcasting and its mission in the public communication; What is a public radio?; Reflections on the genesis of Brazilian public radio; and considerations on the setting and contemporary challenges of public radio. Methodologically, is based on the structural-historical dialectic approach. In theory, is based on the legal provisions of the Brazilian Constitution, guiding documents of Unesco, studies of Brazilian and European researchers on the subject, as well as the notion of European public broadcasting service. In summary, this paper points out that the understanding of the genesis of public radio in the country valuably contributes to the understanding of the challenges that present themselves to such stations; and the contemporary technological scenario appears to be conducive to the reconfiguration of this service in the convergence environment.
Downloads
Dados de Download não estão ainda disponíveis.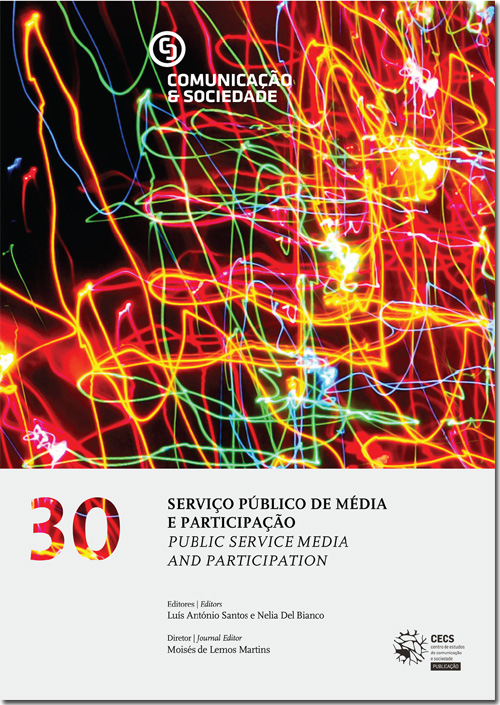 Como Citar
Pinheiro, E. B. B. (2016). Public radio in Brazil: reflections on their original conditions, contemporary setting and challenges. Comunicação E Sociedade, 30, 171-186. https://doi.org/10.17231/comsoc.30(2016).2492
Direitos de Autor (c) 2016 Comunicação e Sociedade
Este trabalho está licenciado com uma Licença
Creative Commons - Atribuição-NãoComercial 4.0 Internacional
.
Os autores, individuais ou coletivos, dos artigos publicados transferem para a Comunicação e Sociedade o exclusivo do direito de publicação sob qualquer forma.