Género, guerra e políticas do corpo: uma análise crítica multimodal da metáfora na publicidade
Palavras-chave:
war metaphors, advertising, gender, body politics, multimodal analysis
Resumo
This paper deals with an aspect of 'doing femininity' in advertising, namely, the participation of women in commercial beauty practices. Specifically, the focus is on how the achievement of beauty is metaphorically conceptualized in advertising as a serious struggle – as war! Of concern is how the domain of militarization associated with hegemonic masculinity gets mapped by advertisers on to the domain of self-aestheticization, conventionally associated with women, and how institutionalized military practices are normalized as an everyday, commonsensical way of 'doing' femininity. Drawing upon a corpus of print beauty advertisements (for cosmetics, skin and hair care products, and slimming and body enhancement treatments), the paper adopts a multimodal approach to the analysis of the data, showing how the war metaphor is expressed through a combination of language, color, and visual images (including represented actions, postures, gaze and props). The analysis shows that the war scenario is complete with enemies (bodily imperfections) and tactical solutions (offered by the brands and their products) and, that in this scenario, women occupy a dual position as objects (whose bodies are subjected to tactical intervention) as well as subjects (who take charge of the battle). The study, from a feminist discourse analytic perspective, explores the contradictory elements in the construction of a postfeminist feminine identity in the advertisements, and the implications of using a military metaphor to conceptualize empowerment for women.
Downloads
Não há dados estatísticos.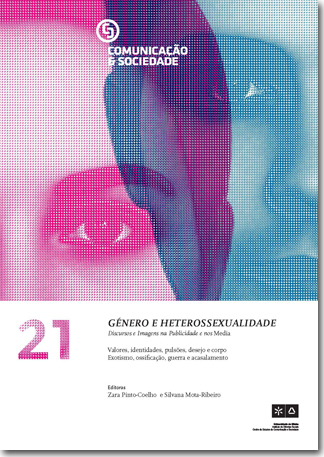 ##submission.downloads##
Como Citar
Lazar, M. (2012). Género, guerra e políticas do corpo: uma análise crítica multimodal da metáfora na publicidade. Comunicação E Sociedade, 21, 183-204. https://doi.org/10.17231/comsoc.21(2012).708
Secção
II. No género e na heterossexualidade: exotismo, ossificação, guerra e acasalamento
Licença
Os autores, individuais ou coletivos, dos artigos publicados transferem para a Comunicação e Sociedade o exclusivo do direito de publicação sob qualquer forma.