The 15M Movement. Collective and volatile actions in the political arena
Palavras-chave:
Communication, politics, social network, Spanish Revolution, participation
Resumo
From data obtained in a survey conducted in May 2011 to identify some characteristics of the media impact of Spanish 15M Movement, this paper presents a critical reflection on the role of new media, especially social networks, in the generation of massive social actions. As a result of current information processes, social networks have been positioned in the imaginary as informative multiplication scenarios, and as spaces that generate immediate social mobilizations. However, the rapid spread, spontaneity, immediacy and volatility that characterize these movements contrast with the lack of lengthy movements, which arise from deliberative processes, necessarily built on institutionalized public spheres. The article shows the opposition between the change in media consumption habits and the reception of information by citizens and their permanent apathy to action-mobilization. Thus, changes in the forms of communication, individualization, connection and multipresence keep unchanged collective action spaces, and can even reduce these spaces if they are not utilized properly.
Downloads
Não há dados estatísticos.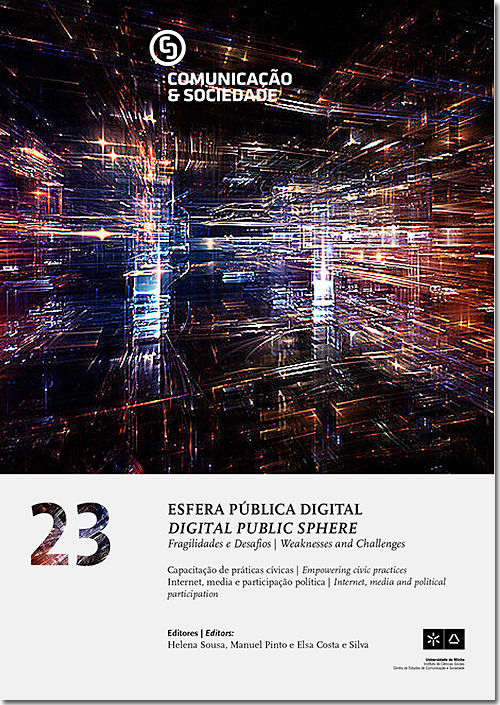 Downloads
Como Citar
Luque, S. G., Cerdá, F. M., & Sánchez, M. O. P. (2013). The 15M Movement. Collective and volatile actions in the political arena. Comunicação E Sociedade, 23, 69–81. https://doi.org/10.17231/comsoc.23(2013).1614
Secção
Partilhar para Criar / Share to Create
Licença
Direitos de Autor (c) 2013 Comunicação e Sociedade
Este trabalho encontra-se publicado com a Creative Commons Atribuição-NãoComercial 4.0.
Os autores são titulares dos direitos de autor, concedendo à revista o direito de primeira publicação. O trabalho é licenciado com uma Licença Creative Commons - Atribuição 4.0 Internacional.