The public: consumers or citizens? Participatory initiatives and the reform of public service media regulation in Germany
Palavras-chave:
Media policy, media regulation, civic participation, public service broadcasting, Germany
Resumo
The German federal interstate treaties, as the regulatory framework for public service media (PSM), have recently been under reform. The starting point of the amendments is the so-called ZDF decision of the German Federal Constitutional Court from the 25th of March, 2014. The Federal Constitutional Court was confronted with the question of whether the composition of the broadcasting council in the second biggest public service broadcasting station in Germany, the ZDF (Zweites Deutsches Fernsehen, Second German Television), is compliant with the constitution. This resulted in reforms of numerous regulatory regimes in several German federal states. This article compares the decision-making process related to the WDR (Westdeutscher Rundfunk, West-German Broadcasting) (whose legislator is Northrhine-Westfalia) and the ZDF (whose legislator is Rhineland-Palatinate), the two biggest PSM broadcasters in Germany. In the case of these two German federal states, this paper strives to provide insight into the strategies of the state chancellery, the responsible legislative authorities, to negotiate a new regulatory framework. The paper also discusses the issue of the "implied audience" during the negotiations and civil society's participation in media policy debates and media governance. The analysis is based on a systematization of the citizen and the consumer in media policy. This working hypothesis assumes that the implied image of the audience differs in the two federal states. The negotiations in Rhineland-Palatinate can be described as ambivalent in terms of how it understood the audience, whereas Northrhine-Westfalia rather addressed the audience as citizens. The study suggests that the ZDF decision created a momentum for broader media policy debates in Germany, which has long been a neglected issue, both in civil society and media regulation – as well as in communication studies.
Downloads
Não há dados estatísticos.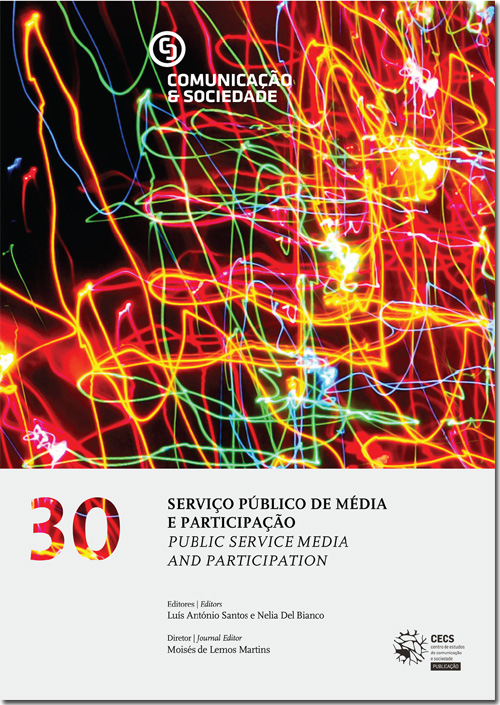 Downloads
Como Citar
Horz, C. (2016). The public: consumers or citizens? Participatory initiatives and the reform of public service media regulation in Germany. Comunicação E Sociedade, 30, 349–366. https://doi.org/10.17231/comsoc.30(2016).2502