Between display and deliberation: analyzing TV news as communicative architecture
Palavras-chave:
Communicative architecture, deliberative democracy, democratic deepening, display, news ecology, TV journalism
Resumo
Television journalism serves to display and deliberate consent and conflict in the contemporary world and it does so through a distinctive 'communicative architecture' structured in terms of a repertoire of 'communicative frames'. This proves consequential for the public expression and engagement of views and voices, issues and identities, and exhibits a complexity that has so far remained unexplored and under-theorized. This article outlines our conceptualization of 'communicative frames' and demonstrates its relevance in a systematic, comparative international analysis of terrestrial and satellite, public service and commercial television news produced and/or circulated in six different countries: the USA, UK, Australia, India, Singapore and South Africa. Recent developments in social theory, political theory and journalism studies all underpin our approach to how these frames contribute to meaningful public deliberation and understanding and, potentially, to processes of mediatized 'democratic deepening'. This article builds on these contemporary theoretical trajectories and develops a new approach for the empirical exploration and re-theorization of the fas -developing international ecology of TV journalism.
Downloads
Não há dados estatísticos.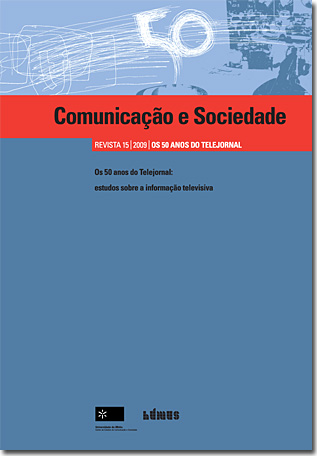 Downloads
Como Citar
Cottle, S., & Rai, M. (2009). Between display and deliberation: analyzing TV news as communicative architecture. Comunicação E Sociedade, 15, 43–63. https://doi.org/10.17231/comsoc.15(2009).1044
Licença
Direitos de Autor (c) 2012 Comunicação e Sociedade
Este trabalho encontra-se publicado com a Creative Commons Atribuição-NãoComercial 4.0.
Os autores são titulares dos direitos de autor, concedendo à revista o direito de primeira publicação. O trabalho é licenciado com uma Licença Creative Commons - Atribuição 4.0 Internacional.