Mediatization of society – Consequences for organizational communication
Palavras-chave:
Organizational communication, mass media, mediatization, symbolic interactionism, public sphere
Resumo
Mediatization serves as a starting point for developing a theoretical framework of external organizational communication. The overall importance of the mass media affects organizations: Organizations have to adapt to the logic of the mass media in order to gain attention in the media society. Thus, organizations make not only attempts to influence mass media; mass media also have an impact on organizations. The mutually dependent relationship between media and organizations is examined on the basis of a symbolic-interactionist communication theory. The structural characteristics of a mediated public sphere provide the backdrop for the complex relationships between mass media and organizations. Finally, the consequences of mediatization for organizations are discussed.
Downloads
Não há dados estatísticos.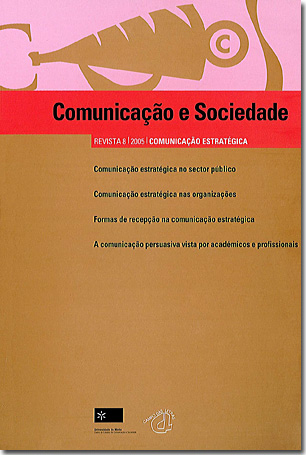 Downloads
Como Citar
Raupp, J. (2005). Mediatization of society – Consequences for organizational communication. Comunicação E Sociedade, 8, 201-208. https://doi.org/10.17231/comsoc.8(2005).1191
Secção
Comunicação estratégica nas organizações
Licença
Direitos de Autor (c) 2012 Comunicação e Sociedade
Este trabalho encontra-se publicado com a Creative Commons Atribuição-NãoComercial 4.0.
Os autores são titulares dos direitos de autor, concedendo à revista o direito de primeira publicação. O trabalho é licenciado com uma Licença Creative Commons Attribution-NonCommercial 4.0 International License.