How valuable is formal science training to science journalists?
Palavras-chave:
Science training, science journalism, newsroom socialization
Resumo
The science writing community in the United States increasingly privileges formal science training as part of a science journalist's 'tool kit.' This article asks if existing research supports the argument that such formal training offers attributes critical to a science writer's work and finds that the answer is no. In studies of journalists generally, as well as a very small number of studies of science writers specifically, newsroom socialization and number of years on the job are more important predictors of journalists' levels of knowledge and their attitudes about professional behaviors than is the nature or extent of the their formal education. The article closes by posing a set of research questions that may permit a better understanding of the possible role of education in the work of science journalists.
Downloads
Não há dados estatísticos.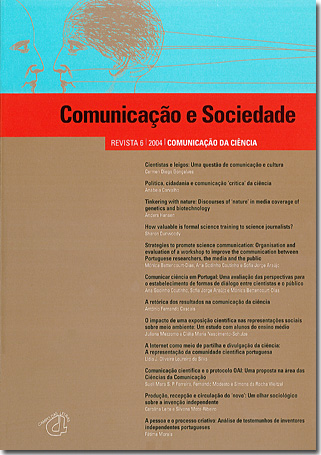 Downloads
Como Citar
Dunwoody, S. (2004). How valuable is formal science training to science journalists?. Comunicação E Sociedade, 6, 75-87. https://doi.org/10.17231/comsoc.6(2004).1229
Licença
Direitos de Autor (c) 2012 Comunicação e Sociedade
Este trabalho encontra-se publicado com a Creative Commons Atribuição-NãoComercial 4.0.
Os autores são titulares dos direitos de autor, concedendo à revista o direito de primeira publicação. O trabalho é licenciado com uma Licença Creative Commons Attribution-NonCommercial 4.0 International License.