Time and chaos: the "imagination of possibilities" and the media
Gustavo Castro

University of Brasilia

Florence Dravet

Catholic University of Brasilia
Palavras-chave:
Catastrophe, communication, Ilya Prigogine, imaginary, Italo Calvino, time
Resumo
This article proposes a reflection about the notion of time and its relation to the media based on the complex thinking paradigm and the transdisciplinary perspective. Departing from reflections about literary and cinematographic narratives, our objective is to examine how the notion of time mediates the concept of comprehension of space/time as well as of the aesthetic perception of the world between order and chaos. We relied on the dialogue between science and narrative and on modern physics for concepts of time, order and chaos. Our conclusions point to three ideas: 1) the constant remembrance of catastrophe is an obsessive intimate theme which presents itself through an artistic and mediatic narrative; 2) the expression of catastrophic obsession partially satisfies the current humanity's affection for horror and 3) the imaginary of catastrophe traverses time and space, being transdisciplinary.
Downloads
Dados de Download não estão ainda disponíveis.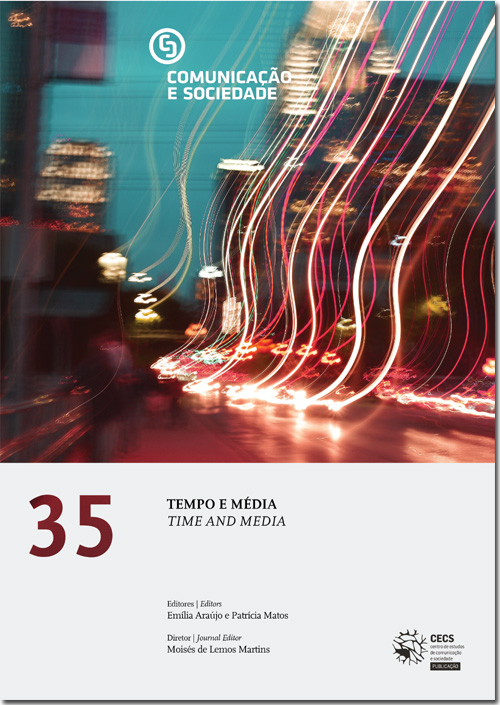 Como Citar
Castro, G., & Dravet, F. (2019). Time and chaos: the "imagination of possibilities" and the media. Comunicação E Sociedade, 35, 45-60. https://doi.org/10.17231/comsoc.35(2019).3130
Direitos de Autor (c) 2019 Comunicação e Sociedade
Este trabalho está licenciado com uma Licença
Creative Commons - Atribuição-NãoComercial 4.0 Internacional
.
Os autores, individuais ou coletivos, dos artigos publicados transferem para a Comunicação e Sociedade o exclusivo do direito de publicação sob qualquer forma.